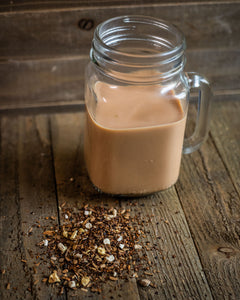 Red Road
Reduces Stress - Comforts - Restores

Our Red Road chai is a delicious, warm, and comforting chai blend. It's perfect for cozy nights and relaxing after a long day. The red rooibos and honeybush create the perfect base for a deeply pleasant, non-caffeinated tea. Then, everyone's favorite comfort spice, cinnamon, adds an enticing and aromatic experience that contrasts with the creamy consistency provided by the ashwagandha. Lastly, hints of ginger awaken the taste buds for a rich flavor experience. 

What You Get:
Your order will include a tea tin with about 1.7oz of loose leaf tea (8-14 servings).
Ingredients (all organic): Red Rooibos, Cinnamon, Honeybush, Ashwagandha, and Ginger.  

Brewing Instructions: Add one heaping teaspoon of tea for every 8oz of boiling water, steep for 3-5 min, strain, then add a dab of honey, and a splash of your favorite milk.